On the afternoon of April 24, 2018, Professor Lu Hai of Nanjing University visited our company for academic exchange and Discussion on the industrialization of deep ultraviolet LED.
Accompanied by the company's leaders, Professor Lu Hai and his party visited the company's exhibition hall, super clean room platform and other R & D and production office areas. During the visit, the company's leaders introduced the company's basic situation and the next key work, and explained the company's duv-led production process, application field, sterilization effect and other related knowledge in detail. At the seminar after the visit, the leaders of the company introduced and explained in detail the current development of duv-led, the technical improvement, products in production, products under research, market application and development planning of duvled, and gave professional answers to some questions raised by Professor Lu Hai. Professor Lu Hai highly praised the company's good working environment, orderly production process, strict quality control and harmonious working atmosphere. He also discussed with the company's senior management on the future cooperation between the two sides, hoping to achieve deep cooperation, complementary win-win and common development in the future cooperation projects!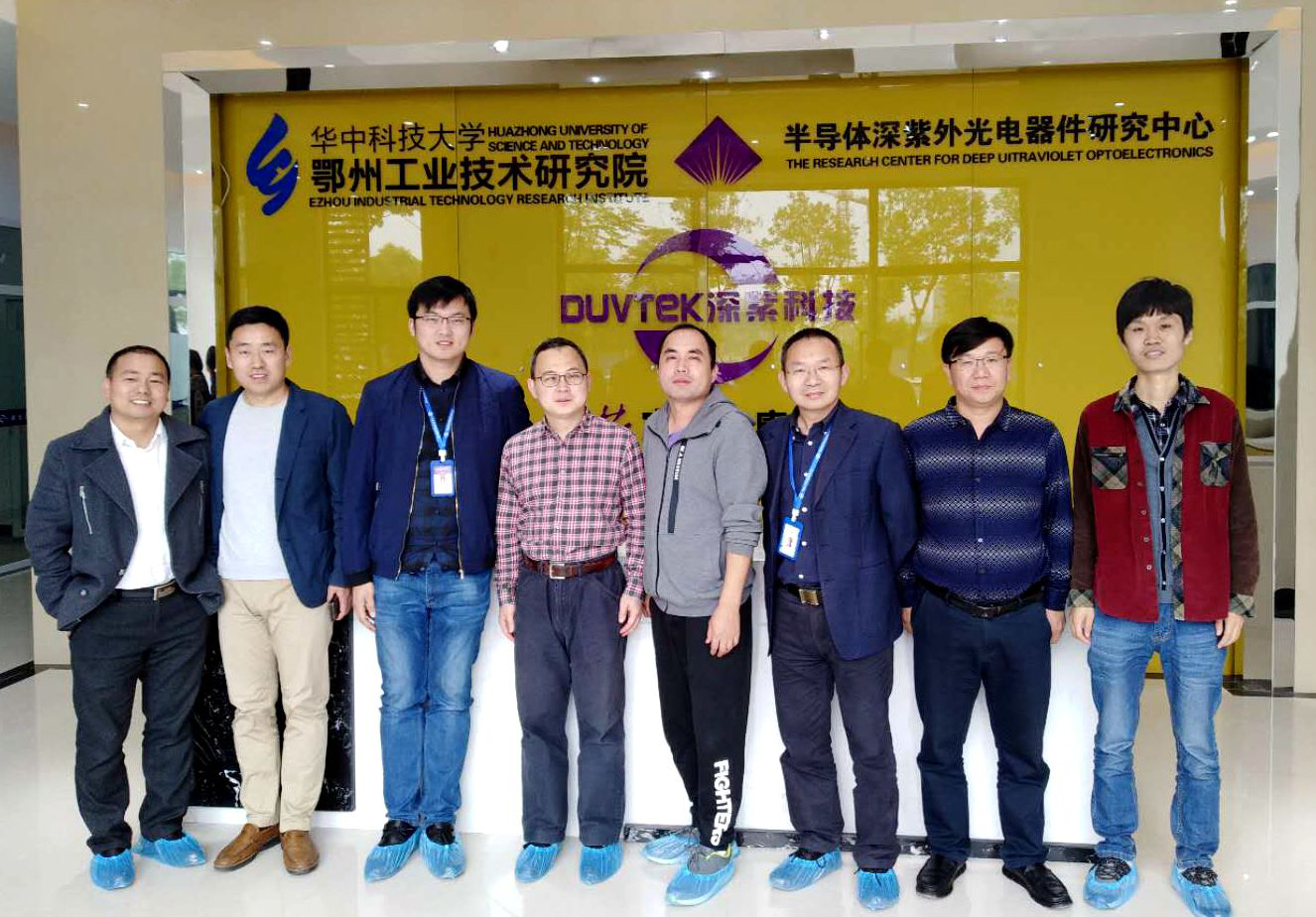 A group photo of Professor Lu Hai and his entourage
Professor Lu Hai is a distinguished professor of Nanjing University, and concurrently serves as the chief researcher (PI) of Nanjing National Laboratory of microstructure (Preparatory), winner of National Science Fund for Distinguished Young Scholars, distinguished professor of Yangtze River scholars, expert of 10000 Talents Program, and chief scientist of national key R & D program. He is mainly engaged in the research of wide band gap semiconductor materials and devices, and has made many achievements with international influence. In recent years, we have focused on GaN based high-power electronic devices, deep ultraviolet detection devices, and new oxide transparent thin-film transistors. We are committed to extending the basic research results of semiconductors to the application fields of devices. We have developed GaN Schottky rectifiers with high breakdown voltage and high gain Gan UV Avalanche Photodetectors, which have been followed and reported by the international mainstream semiconductor technology media for many times We have developed AlGaN based solar blind deep ultraviolet detector with the lowest dark current density and the largest chip size, and led the Nanjing University team to realize the industrialization of high sensitivity GaN based ultraviolet detector in China, and first realized SiC ultraviolet single photon detector in China. Up to now, more than 300 academic papers have been published, including more than 230 SCI papers; more than 10000 SCI papers have been cited by SCI (as of December 2015); and its representative work has been called "major breakthrough" by foreign peers in the review articles.